14 May 2012
Greenfields Nature Reserve Boardwalks opened by Lady Veronica Cossons,
President of Shropshire Wildlife Tust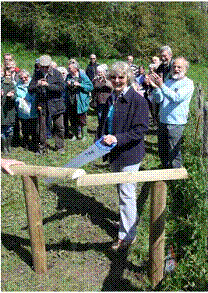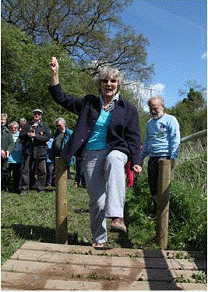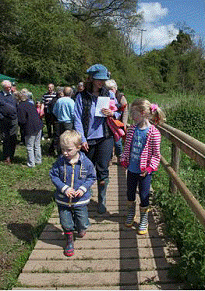 Around 60 people gathered at Greenfields Local Nature Reserve on Saturday 12th May on a gloriously sunny afternoon to join with Lady Veronica Cossons, President of Shropshire Wildlife Trust in the formal opening of the new boardwalks and steps which have been constructed over the last fifteen months by a team totalling of nineteen volunteers. This was no cutting of a ribbon event but rather something more energetic [see above]. In her opening speech, Veronica paid tribute to the volunteers and the huge amount of work [around 600 man-hours] that they had put in. She also mentioned that this year is the 50th Anniversary for the Shropshire Wildlife Trust and that from the beginning, the Trust had always striven to connect people with nature, something at the very heart of greenfields Local Nature Reserve. After the opening ceremony, visitors were invited to explore the reserve, talk to members of the branch, do a bit of pond-dipping, look out for water vole [one lady did see one!], hunt for butterflies and other insects and finally, enjoy tea and delicious cakes. Pete Boardman, leader of the Invertebrate Challenge, was also with us talking to visitors. Not only did Pete find 13 species of crane fly, but also a nationally rare solitary bee associated with speedwell.
Greenfields All the Year Round – a project to improve access in the reserve has been