Last event: Wednesday
8th August
7.30 - 9.30 pm
The monthly talks programme restarts on Wednesday 10th October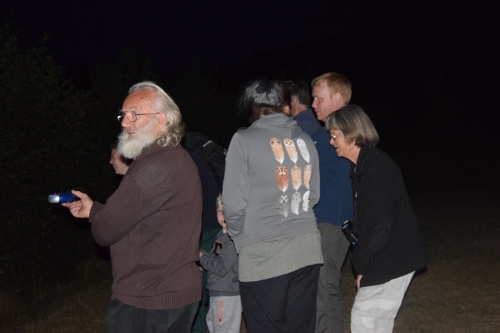 Alderford Lake - Birds, Bugs & Bats

A gentle stroll to look at the birds and insects around the lake, later on to look and listen for bats with the help of some bat detectors.
Some 30 people took part and walked round the lake looking at the birds especially the Great crested grebe family. The chicks may be as big as mum and dad but are quite happy to let their parents do the fishing! The children found various insects in the vegetation, including violet and irridescent green beetles. The latter
Chrysolina herbacea was found on the water mint.
As darkness fell, out came the bat-detectors and after limited success amongst the trees, we went over the bank and pointed the detectors at the surface of the lake. They went beserk! Scores of bats, including Daubentons, were feeding low over the water.